Browse Items (3 total)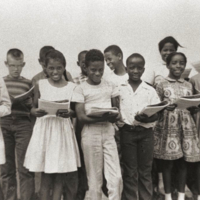 A photo of students prepare to sing. Back row, third from the left: Robby Fields, Eugene Brown, Gene Mason, Carlos Brown. Front, second from left: Lois Williams, Eugene Brown, Abe Madden, Jeanie Goodwin, Johnny Stevens. Far right: Peggy Curry.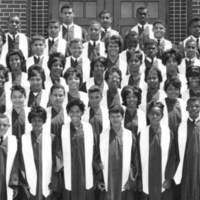 A photo of the Lucy F. Simms School choir, posing in their robes with their teachers (including Mary Awkard Fairfax) in front of the school. Front Row: Ricky Jones, Robbie Fields, Dennis Bundy, Roscoe Burgess, Valda (Weegie) Cotledge (Brown); Ann…
Tags: Albert Jackson, Alecia Darcus (Pettit), Ann Johnson (Byrd), Archie Webster, Barbara Lewis, Belinda Harper, Betty Bryant?, Betty Temple, Billo Harper, Byron Temple, Calvin Williams, Carol Raymond, Cater Bundy, Charles Carter, Charles Thomas, Corliss Walker (Brown), Debbie Abernathy, Dennis Bundy, Donna Rhodes (Brock), Edward Strother, Ementha Buck, Forrest Webster, Frances Dickerson (Sampson), Gerald Winston, James Brown, James Johnson, Jamie Madden, Janice Lindsay, Jean Brown, Jean Goodwin, Jean Washington, Jennifer Jackson, Jerry Holsopple, Jerry Howard, Jerry Williams, Julia Helms (Taylor), Laverne Abernathy (Graves), Linda Cubbage, Linda Strother, Lois Williams, Lorra Rhodes (Hobbs), Mary Awkard Fairfax, Mary Smith (Tucker), Merle Madden, Nathaniel Moore, Owana Hamilton, Pamela Howard, Patricia Winston (Howard), Priscilla Fields, Rebecca James, Regina Curry (Green), Ricardo Curry, Richard Fields, Ricky Jones, Robbie Fields, Robert Harper, Roscoe Burgess, Sally Washington, Sherry Darcus (Johnson), Shirley Washington, Stanley Douglas, Steven Thomas, Teresa Morton (Jones), Valda (Weegie) Cotledge (Brown), Warren Temple, William Johnson, Wilma Washington (Temple)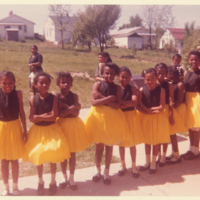 A photo of the Maypole girls getting ready to wrap the pole. Pictured left to right: Lois Williams, Jeannie Goodwin, Laverne Abernathy, Lucille Madden, Anne Johnson (?), Marry Anne Smith, Wilma Mae Washington, and Priscilla Fields.